LADCO is a regional hub for expertise and data on air pollution emissions sources in the Great Lakes region. 
Data on the magnitude, timing, location, and chemical signatures of air pollution emissions sources are fundamental to accurately modeling air pollution.
---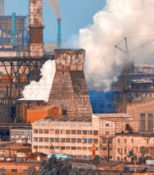 Our capabilities in the following areas of emissions modeling support the needs of our member state air programs:
SMOKE Modeling:  Sparse Matrix Operator Kernel Emissions (SMOKE) modeling to prepare emissions for regional air quality modeling
Emissions Forecasting: application of models and data to project future emissions levels
Emissions Surrogates: development of land cover/land use, temporal patterns, and chemical speciation profiles to simulate emissions sources
Data Analysis: GIS, statistical, and graphical analysis of emissions data
Best-Practices: leadership on regional and national workgroups, panels, and committees for evaluating, developing, and improving how to quantify air pollution emissions
Contact the LADCO Emissions Director for more information about emissions modeling at LADCO.